The Washington Times - Tuesday, August 30, 2016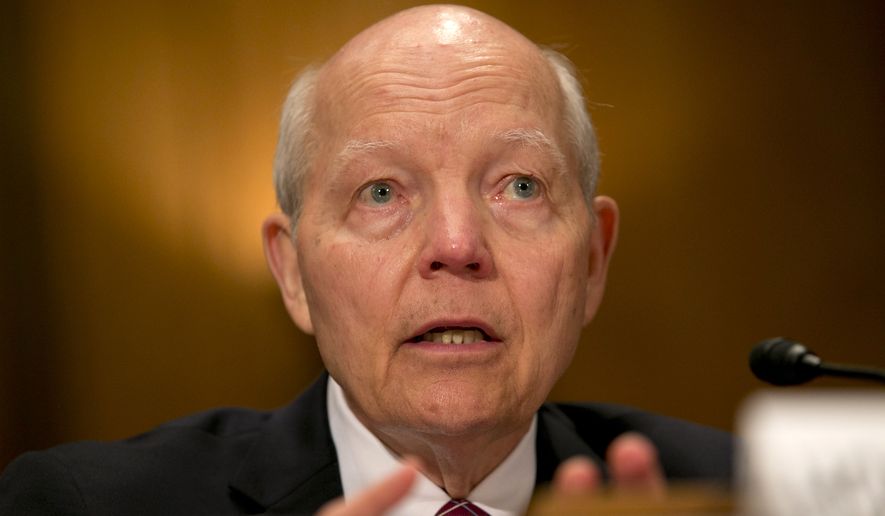 Photo by: Jacquelyn Martin
IRS Commissioner John Koskinen testified at the time that it may take new legislation from Congress to let his agency inform taxpayers they'd been the subject of identity theft. (Associated Press)
As a result, most taxpayers don't learn that their identities have been stolen and their Social Security files may be screwed up.
"Taxpayers identified as victims of employment-related identity theft are not notified," the inspector general said.
Victims' numbers are stolen by illegal immigrants who need to give employers a valid Social Security number in order to get a job. Employers are prohibited from probing too deeply into numbers, even when they suspect fraud.
Between 2011 and 2015 the agency flagged nearly 1.1 million returns where someone appeared to have stolen a valid Social Security number, the inspector general said.
"As we continue to battle and make progress against all strains of identity theft in the tax ecosystem, we recognized that we were missing an important partner in this effort — the taxpaying public," said Ms. Schiller, who had the task of answering the inspector general.
She also vowed to figure out a system to let the Social Security Administration (SSA) know if someone's number has been stolen.
He also said the agency struggled to come up with a solution that wouldn't chase illegal immigrants away from filing their taxes altogether.
Mr. Koskinen testified at the time that it may take new legislation from Congress to let his agency inform taxpayers they'd been the subject of identity theft.
"The lack of a formal process to ensure that the SSA is notified of income not associated with an innocent taxpayer is problematic because this notification is essential to ensure that victims' Social Security benefits are not affected," the inspector general said.